Short Condolence Messages
There are more than 150.000 people that fly to heaven every day, 2/3 of them passing away because of age-related causes.
If you happen to know someone or have lost a beloved one recently, then find a short condolence message and light a candle for them.
Please accept my deepest condolences for your family's loss.
May you be comforted by the outpouring of love surrounding you.
Words cannot even begin to express our sorrow.
May your heart and soul find peace and comfort.
Please remember that you are not alone... We are always here for you.
I am thinking about you and sending love.
Wishing well of you and your family in this time of loss.
I'm always there in your hour of need. May his/her soul rest in peace.
Your loss has left all of us deeply saddened.
Our hearts are saddened by your loss and our thoughts and prayers are with you.
May peace and comfort find you during this difficult time.
My family's hearts are with you and your family.
We are very saddened to hear of your recent loss.
Gone from our sight, but never from our hearts.
My heart goes out to you and your family at this difficult time.
---
Message of condolence
It's always difficult to write down the right short condolence message, that's why this collection of the best condolence messages have been validated by thousands of people just like you.
A condolence message is very personal and touching, so you should always mention the name of the person you are addressing and be respectful by sympathy quotes or showing your sympathy in words.
---
No words can describe how sorry I am for your loss.
We would like to express our sincere condolences to you and your family.
We want to express our sympathy and let you know that our thoughts are with you.
Our hearts go out to you in your time of sorrow.
Sharing in your sorrow. With love and friendship.
My heart goes out to you during this difficult time.
You and your family are in our prayers. Sorry to hear of your loss.
I want you to know that I am here for you during this difficult time.
May your memories give you peace and comfort.
Thinking of you, at this time of loss.
Someone so special can never be forgotten.
I am here for you. Please let me know if I can help in any way.
When someone you love becomes a memory, the memory becomes a treasure.
Words fall short of expressing my sorrow for your loss.
You and your family are surrounded by love during this difficult time.
Short Sympathy Message
It's always a negative situation to send a sympathy card, but remember that your words help a lot.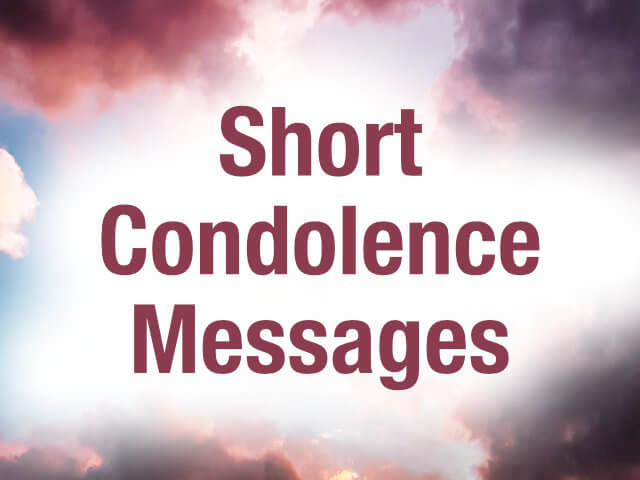 This list of short condolence messages gives you inspiration for a condolence card.
When you show your support, it also lets the involved people know how much you care about them.
If you know the person well, we encourage you to include a sentence or two sharing a heartwarming memory about the person.
Short Condolence Images
If you're looking for condolence images to post on Facebook or Instagram, we got you covered.
These sympathy images will make sure to bring extra attention.
You can download these short condolence images for free to your phone or computer and post it.